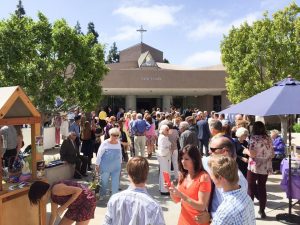 Laguna Niguel Presbyterian Church
30071 Ivy Glenn
Laguna Niguel, CA 92677
Phone: 949-249-1218
URL: http://lnpc.org/
Email: [email protected]
Staff
Pastor James Szeyller
Pastoral Care Associate Rev. Anette Rihovsky
Youth Ministries John Denton
Director of Children & Adult Spiritual Formation CM Hourigan
Music Ministry Binh Vu & Lee Lee Truong-Sawicki
Office Manager Heather Hilderbrand
Sunday Services:
8:00 am Communion Service

: An informal 30 minute service of singing, Scripture reading, prayer, and celebrating Communion every week.

10:00 am Celebration Service

: An exciting blend of the traditional, organ and choir, with the joy of praise music.

4:30 pm The Gathering

: An informal fellowship of praise music followed by a light supper.
---
Laguna Niguel Presbyterian Church