Vital Congregations Virtual Gathering
August 18, 2020

-

August 20, 2020

$75
We are so excited to announce that registration is now LIVE for the Vital Congregations Virtual Gathering August 18-20th! We cannot wait to see who God brings together for this amazing event! Please register here. You don't want to miss it. We will be featuring Tod Bolsinger who will be talking to us about resistance and resilience in ministry during this time. We will also feature Dr. Bill Brown who will be leading our devotion on Tuesday. Finally, Tony McNeil will be joining us to lead a spirit-inspired worship together. Shanea Leonard and Mel Tubb will be preaching the Word during worship, and all your Vital Congregations leaders will be there. This is such a great opportunity to Gather with folks from our the denomination who are seeking to be the vital church of Jesus Christ.
Please note the important breakdown of the schedule for this event: (Full Schedule Below)
August 18th – 1st Wave Presbyteries checking in and learning deeper about the 7 Marks in Workshops
August 19th – 1st & 2nd Wave Presbyteries Together – Bill Brown, Tod Bolsinger, Workshops, and more.
August 20th – 2nd Wave Presbyteries & Interested Presbyteries & Churches learning about Vital Congregations
Cost: $75 per person. Please remember that even if you are unable to attend the event (August 18-20th), but you would like a recording of the event, you WILL need to register as well.
This event is for all church and presbytery leaders, all church officers and members, anyone who is interested in exploring Vital Congregations. We hope you will spread this Registration information far and wide so that we have a great Gathering of those passionate about being the Vital Church today. We will be sending more information upon Registration ending about the Zoom Link and password for this event. We will have Spanish and Korean interpretation for the event. Please let us know if you are in need of these language interpretations.
If you have any questions, please do not hesitate to contact the Office of Vital Congregations at [email protected] . We look forward to being together with you all virtually at this 2020 Vital Congregations Gathering. We cannot wait to see you there!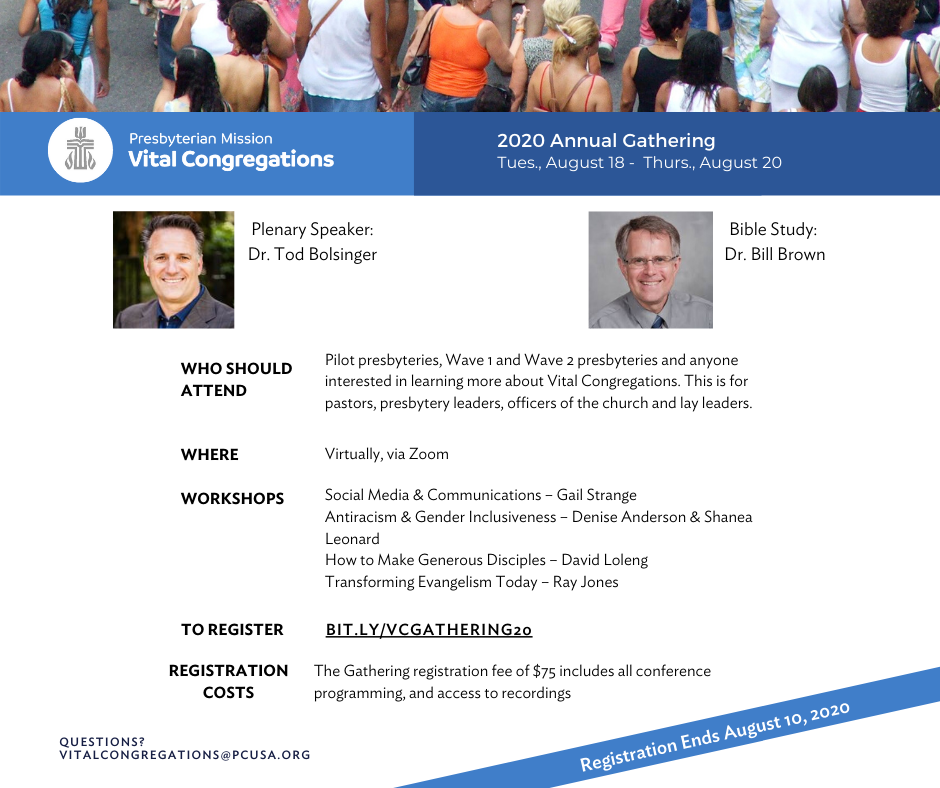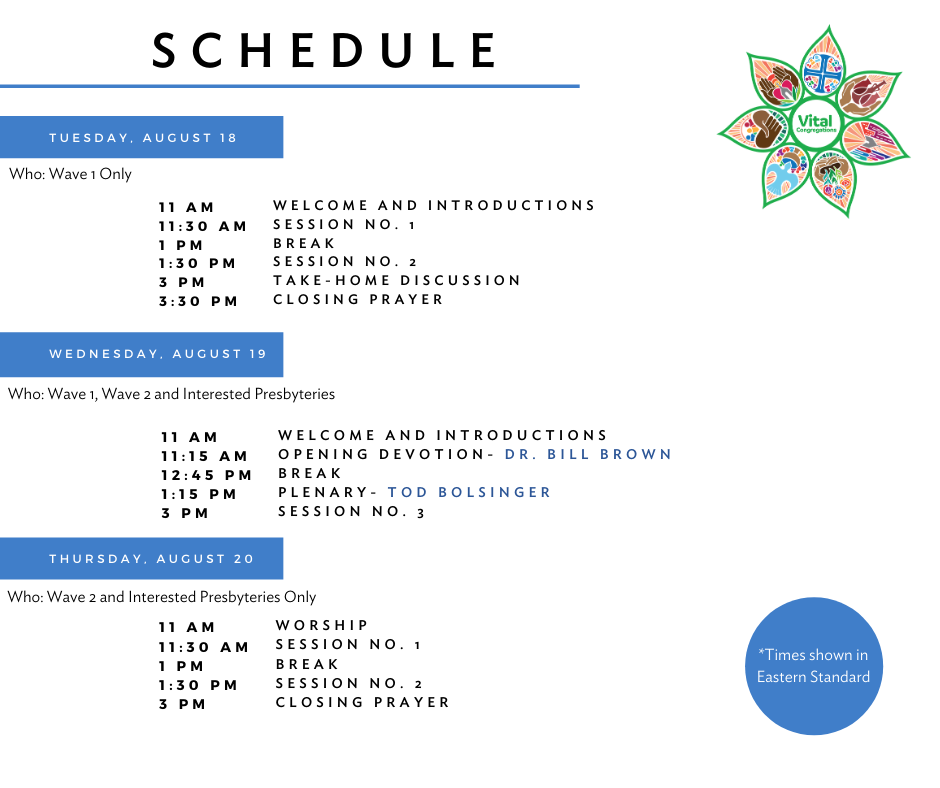 Related Events