St. Mark's Peace and Justice Commission to Help Sponsor "Free Hoag' Webinar
October 25 @ 6:00 pm

-

7:15 pm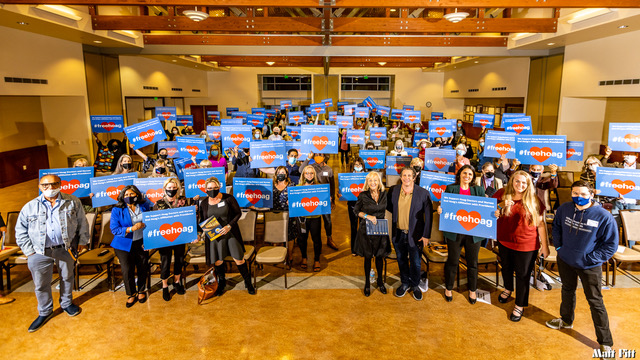 St. Mark Presbyterian Church in Newport Beach has long had a partnership in mission and ministry with the non-profit Hoag Memorial Hospital Presbyterian in Newport Beach, as have many churches in our Presbytery of Los Ranchos.
Reflecting this support, the Peace and Justice (P&J) Commission at St. Mark is one of the sponsors of the "Free Hoag" informational webinar, to be held at 6 p.m. on Monday, October 25. The public is invited to attend via Zoom, with registration available on a first come, first serve basis.
The purpose of the webinar is to create greater awareness of the restrictions that Hoag has had to make in women's health services since its affiliation with Providence, one of the country's larger non-profit Catholic healthcare systems. That affiliation, which began in 2016, has also led to allegations about many other disruptions in Hoag's delivery of care. Consequently, after mediation failed, Hoag formally sought dissolution of the affiliation in Orange County Superior Court.
"We believe that an independent Hoag can best fulfill its mission of providing the highest quality health care services to the Orange County community," said Beryl Smith, a member of the St. Mark P&J Commission. "The webinar will explain the effects of the affiliation on Hoag and our community, and how members of our community can become involved in the #FreeHoag effort." Beryl will also be a speaker at the webinar, representing the St. Mark P&J and the Association of Presbyterian Members, one of the two founding boards of Hoag.
The "Free Hoag" event is presented by the Orange County Women's Coalition, an association of local women's groups, with support from many community sponsors such as St. Mark's P&J Commission. In addition to Beryl, the featured speakers will be:
• Assembly Member Cottie Petrie-Norris, 74th District
• Allyson Brooks, MD, Executive Director, the Women's Health Institute, Hoag
• Grace Lozinski, MD, Chief Quality Officer, Hoag
• Massoum Moayeri, MD, Fertility Specialist, Hoag
• Jeffrey S. Illeck, MD, OB/GYN, Hoag
• Steve Velkei, JD, attorney for Hoag
To register for the Free Hoag! Webinar visit https://us02web.zoom.us/meeting/register/tZUtcOyurz4sHNxswhJ7MAi9ebbHMFmV8H1_
For more information about #FreeHoag, visit https://www.facebook.com/protecthoag.org or https://freehoag.org/.
More About the Hoag-Providence Affiliation
The Hoag-Providence affiliation (which was not a merger, and no money changed hands) began in 2012 as a partnership between Hoag and St. Joseph Health System, a Roman Catholic healthcare chain in Orange County. The announcement of the partnership stated that both parties would "retain their individual identities and faith affiliations–Presbyterian and Catholic, respectively."
However, the Catholic Church restrictions on women's healthcare further increased in 2016 when St. Joseph merged with Providence. Presbyterian hospitals believe that the doctor-patient relationship is at the core of healthcare decision making, not a hierarchy that is far removed from the local community served by the hospital. Hoag doctors and administrators say that their own judgment of best medical practices continues to be undermined by Providence's policies. The lawsuit seeks to dissolve the affiliation and enable Hoag to continue to practice and deliver the highest quality of care to the residents of Orange County.
Related Events